How to get the 72 hours free visa permit to Beijing:
1, At the ticket agent:
When airline tickets are issued, tell the ticketing agent that you will need to apply for a 72 hours transit free visa.
2, At the counter of departure airport
When check in the airport for your departure, request a 72 hours free visa to China from the check in counter.
3, Upon arrival
When arrive in Beijing, request a 72 hours free visa from the Entry counter.
The checkout Procedures from the capital international airport: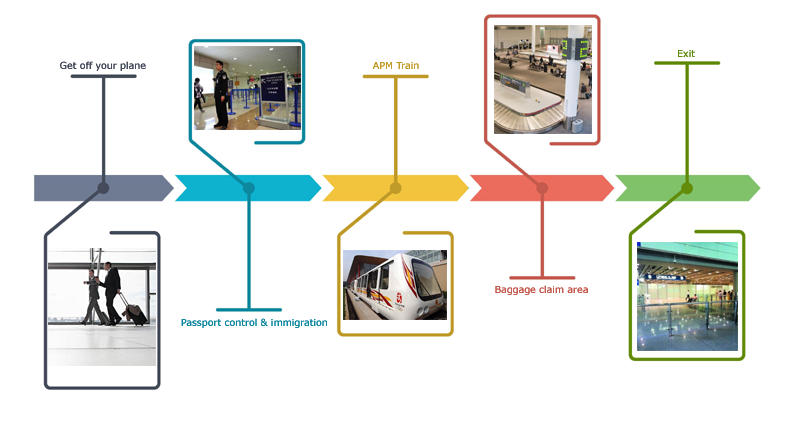 How you find counter for 72-hour visa-free transit passengers?
Your application for 72 hours free visa will be sent to the Entry Frontier Organization at Beijing capital airport via email before your arrival in Beijing, when get off the plane, You will be guided to the relevant counter for filling up the entry registration card and get a stamp on your passport as the free visa permit.
If you do application for visa upon arrival, follow the instructions on sign to the immigration counter, choose the line for 72 hours free visa and get the stamp on your passport as the free visa permit.
Sometimes the passengers make a long queue in front of immigration counter, so it is very importance for you to keep in mind that the queue for 72 hours transit is on the left end, go to the right queue or you will have to make another one.
Filling up the entry registration card is a must for you to get stamp for 72 hours free visa permit. get them ready before you queue up the line.
Items on the entry registration card:
Name,Sex, Birth, Passport Number, Nationality, Arrival Date, Arrival Flight, Exit Time, Exit Flight, Contact Phone Number in Beijing, Address in Beijing, Reception Unit or Person, Reception Unit Phone Number.
Policy on 72 hours free visa permit to Beijing:
Citizens of certain countries who meet the criteria are allowed 72-hour (3-day) visa-free transit via and travel in 18 China cities: Beijing, Shanghai, Guangzhou, Xi'an, Chengdu, Chongqing, Guilin, Kunming, Dalian, Xiamen, Hangzhou, Harbin, Wuhan, Tianjin, Shenyang, Nanjing, Qingdao, and Changsha.
Shanghai, Jiangsu, Zhejiang and Guangdong have had a 144-hour (6-day) visa-free transit policy for passengers from 51 countries or regions, as of 2016.
Valid Nationalities
Americans (of 6 countries): the United States, Canada, Brazil, Mexico, Argentina, and the Republic of Chile.
European Citizens (of 37 countries): Austria, Belgium, Denmark, Czech Republic, Estonia, Finland, France, Germany, Greece, Hungary, Iceland, Italy, Latvia, Lithuania, Luxembourg, Malta, Netherlands, Poland, Portugal, Slovakia, Slovenia, Spain, Sweden, Switzerland, Russia, the United Kingdom, Ireland, Cyprus, Bulgaria, Romania, Ukraine, Serbia, Croatia, Bosnia, Montenegro, Macedonia, and Albania.
Oceanians (of 2 countries): Australia and New Zealand.
Asians (of 6 countries): South Korea, Japan, Singapore, Brunei, the United Arab Emirates, and Qatar.
Valid Ports of Entry
Airports implementing the 72-hour visa-free transit policy (on Mar 16, 2017) are Beijing Capital International Airport, Xi'an Xianyang International Airport, Chengdu Shuangliu Airport, Chongqing Jiangbei International Airport, Guilin Liangjiang International Airport, Kunming Changshui International Airport, Dalian Zhoushuizi International Airport, Ximen Gaoqi International Airport, Harbin Taiping International Airport, Wuhan Tianhe International Airport, Tianjin Binhai International Airport, Shenyang Xiantao International Airport, Qingdao Liuting International Airport, and Changsha Huanghua International Airport.
The Third Country Rule
Foreigners holding confirmed seats on an international flight for a third country (or separately administered region of China: Hong Kong, Macau, and Taiwan) are allowed to stay in the designated Chinese city area for 72 hours. Air tickets for the country just arrived from are not acceptable, nor are air tickets to another visa-free city in China.
The City Area Rule
The policy does not permit travel outside the prefecture-level area administered by the port of entry city. For example Beijing transit visitors can go to the Great Wall, as it's within Beijing Municipality, but not anywhere outside the Beijing border, e.g. Tianjin or Hebei Province.
Declaration of Eligibility
Foreigners qualifying for 72-hour visa-free transit should declare to the airline company that they fly with and the border inspection authority that they are entitled to enter China. Foreigners who fail to buy outbound air tickets before entry into China are not entitled to 72-hour visa-free transit.
If Your Departure is Delayed Beyond the 72 Hours
Those who cannot leave China for a third country within 72 hours, for whatever reason, should apply for a visa at the local Public Security Bureau Exit-Entry Administration Office. The 72-hour limit is calculated starting from 00:00 the day after arrival.
Those who fail to go through visa formalities according to the stipulations of Chinese airports will be punished according to Chinese law as illegally-residing aliens, once caught by the Public Security Exit-Entry Administration and Frontier Defense Inspection Stations. Chinese Frontier Defense Inspection Stations have a right to refuse re-applications through an airline company for 72-hour visa-free transit.