General information:
How to visit the world famous Terra Cotta Warriors Museum within a day in Xi'an? Hire a car with driver from Mr orange transfer might be your best choice,it will take 2 hours comfortable transfer to get to the museum from Xi'an downtown, and when arrived,You will be stopped at Terra Cotta Warriors Museum for about 3 hours exploration,Our driver dress in formal, well behaved and always ready for help and we provide 24 hours English speaking customer service,Book with us and enjoy a hassle free transfer service with the best local transfer company: Mr orange transfer!
Time schedule:
Departure time: 7:00 am (suggest time, subject to change based on your request)
Estimated returning time: 6:00 pm
Transfer duration: 2.5 hours
Include: Driver, Fuel, Parking fee, Toll fee
Exclude: Lunch, Entrance tickets, Gratitude for a good job
Pick up point: Your hotel in down town Xi'an
Drop off point: Your hotel in down town Xi'an
---
Tariff:
Pls note our price is per car, NOT per person

---

---
Why rent a car with driver?
Travelling to new places is intended to be fun and luxurious. However, this always comes with a cost; a cost of time, a cost of money, and a cost of effort. That is where we come in. Our car rental service is made and designed in a very flexible way that can be tailored to your specific needs at every specific moment. You will be driven to the destination while you relax and only wait to arrive.
The Efficient Service
We have a topnotch service with fully licensed drivers that know the ins and outs of China. They will cater to your every need besides just driving. They can help you pay your tickets out and to attend to lunch breaks during your visit whenever you feel it's necessary.Our vehicles are new. They are equipped with every accessory you would need like air-conditioning, air bags, seat belts, fire extinguishers, and more.
You Get To Save
Unlike the inconveniences you would get from having to look for taxi cabs and incur huge charges, our team would stay with you all day long. If you experience difficulties, you can always call our customer service: 0086-13910694045.You can keep the driver and the car for hours and your rates will be customized to suit you.There are no hidden charges and you get what you see.
You Are Flexible
You can always call for the service at any time, even very early in the morning. You will be taken to wherever it is you want to go, and you can stay there for as long as you feel you want to.You are also able to come with up to 4 friends if you like. This will help you to save on money just as much as it would be more fun.Our driver speaks a little English and will help you overcome many hurdles in communication during difficulty. You may need to download Chinese basic English cheat sheet to speak with the driver though.
---
Why choose us:

We provide 7*24 hours English speaking customer service and our driver will help you to buy entrance ticket

Absolutely NO shopping, NO detour, NO factory tour.

Driver dress in formal, Well behaved, with clean car and reliable service every time

Book a taxi within minutes and pay by cash or card (online)

We don't spend a cent on any costly advertising to make our price 20% cheaper than competitors.

Vehicles are equipped with Car Air Purifier, We ensure the density of pm2.5 is under 100 in car

---
Before getting to Xi'an
you are advised to find the information below via this site: http://orange-transfer.com/track-your-trip/. All information will be updated only 24 hours ahead of your arrival date.
Driver's name
Driver's photo
Driver's contact Number
Vehicle's plate Number
Vehicle's branding

---
Time schedule:
Pick up (suggest time, subject to change based on your request) On the tour date, go to the lobby of your hotel at the appointment time, In case you are unable to see our driver (this has never happened before), we strongly suggest you try the following procedure to get in touch with us. We will do our best to solve your problem on the spot.
Go to the front desk of your hotel (staff there speak English and are always ready to help), and ask the staff to make a phone call to our customer hotline: 0086-13910694045 and ask for help.

Arrive at the parking lot of Terra cotta warrior museum-Your car will always be parking there, and waiting for your return.

Driver will go with you to entrance office and help you to buy tickets
He will also show you where the toilet is if you ask for
You will have 2 options for going to the entrance of Terra cotta warriors museum.
By foot: 10 minutes walking
By electronic trolley: 3 minutes(Ticket: 10 RMB/person)
Ticket price(Our driver would guide you to buy ticket if request):
Entrance ticket to Terra cotta warriors museum: 150 Yuan/person
Go back to the parking lot, meet your driver and drive to a nice local restaurant if requested

---
Our Vehicles:
Our vehicles are equipped with GPS system and in car WI-FI device.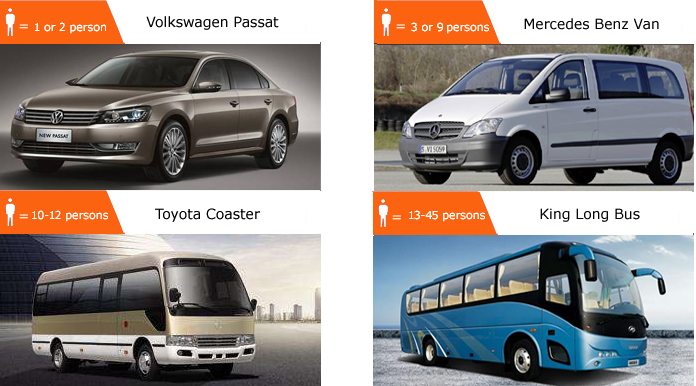 ---
Capacity: