About Mr orange transfer:
We pride ourselves as the UNIQUE travel agency that provides a secure, reliable, fast and serene airport,train, port, transfer and taxi tour service, With over 10 years experience in the taxi and minicab industry, you can be sure that Mr orange will always find you the best driver and car. Mr orange transfer provide  7*24 hours English speaking customer service and We don't spend a cent on any costly advertising to make our price 20% cheaper than competitors, All our customers came to us by word of mouth. We care about the details of our service: Our driver always dress in formal and behave nicely, and they has been undertaken 100 hours training program, Our car are always new and equipped with WIFI device and Car Air Purifier. Choose us, You enjoy journey and We take care of the hassles.
---
Brief introduction to Beijing South Railway Station:
Beijing South Railway Station
Address: Yongdingmenwai Dajie, Dongcheng District ( just south of the southern second ring road) Tel: 51867999
The trains departing from Beijing South Railway Station: serving as the terminus for high-speed trains to Tianjin, Jinan, Shanghai, Qingdao and other cities.
---
Rate for One way private transfer between Beijing south railway station and capital airport
Pls note our price is per car, NOT per person

This service is available daily. The above price is for adults (age > 12). The price for children (age 2-12) is the same as adult price and the price for infant (age < 2) will be free of charge. This price include the transfer service with a private car and a driver who can speak a little English.
 Why choose us:

Transfers to & from Beijing south railway station starting from 25usd/person

Meet & Greet / Waiting & Parking / Flight Tracking included

Driver dress in formal, Well behaved, with clean car and reliable service everytime

Book a taxi within minutes and pay by cash or card (online)

Affordable prices and value for money on each occasion

Vehicles for up to 8 passengers + luggage available

Our driver are requested to report their work in 5 procedures via Wechat app every time.

3 steps to meet our driver:
1,Before getting to Beijing, you'll receive the following information from us:
Driver's name
Driver's photo
Driver's contact Number
Vehicle's plate Number
Vehicle's branding
2,Beijing Arrival
Upon arrival in Beijing south railway station, walk to the designated position as shown in the FAQ part below. There, you will meet our driver. In case you are unable to see our driver (this has never happened before), we strongly suggest you try the following procedure to get in touch with us. We will do our best to solve your problem on the spot.
Go to the information desk opposite the terminal exit (staff there speak English and are always ready to help), and ask the staff to make a phone call to customer hotline: 008613910694045.
Call our 24-7 emergency line shown in our confirmation letter and ask for help.
3,Driver & Guide Service
Our driver can show you to the nearest toilet and currency exchange shop. Ask your guide if you need to change currency into local Chinese yuans.
At the hotel/airport, your driver will help you with luggage and check in formalities.
The trunks of our vehicles are spacious enough for you luggage.
Our vehicles are equipped with Wi-Fi, GPS devices, and a baby seat. Please ask your driver if you need a baby seat.
A short time will be given so you can go to your room and freshen up after which there will be an optional 30-minute introductory tour around your hotel provided by your guide. During this short tour, your guide will suggest to you the best restaurants and places to go shopping. He will label them on your map so that later you can easily find your way to these places all by yourself.
Our Vehicles:
Our vehicles are equipped with GPS system and in car WI-FI device.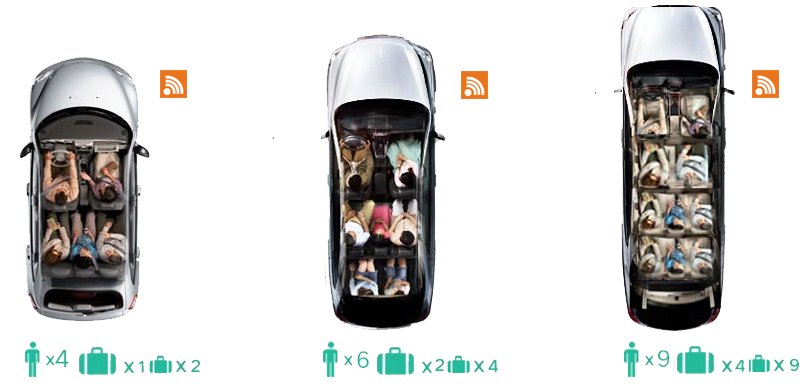 Why Choose Mr orange:
Compare with subway Our transfer service are private and comfortable, Our driver will hold sign to greet you at designated position. We will make everything smooth and easy.
Compare with taxi service We are 40% Cheaper and without and surcharge Our van are comfortable non smoking. Our driver dress in formal & always well behaved We provide 7*24 hours English speaking customer service.
Compare with railway station shuttle bus We are private transfer and customer will NOT need to wait for a fixed departure timetable. We are easy going, We promise to drop you off anywhere you point on Beijing map. Our van are with bigger space for you and your family, We will make everything smooth and easy.
FAQs about the Transfer Services:
How do I recognize the Mr orange driver
What if my flight is delayed?
We stay on track with your flight status. We make sure to confirm your boarding information with the airline one hour after your scheduled departure. We get confirmation you are aboard and that your flight is on time.
By using a cell app, our operations staff and guide double-check the arrival time on the arrival day. We use a real-time flight tracking. Our guide will be at the terminal 10 minutes before your arrival time, and you will take minimum of 30 minutes to 1 hour after arrival to clear custom and collect your luggage.
Mobile App for real-time flight information
What if my flight arrival time is early or late?
For any flight arriving before 6am or after 10pm, we only provide a driver transfer service. Our drivers are experienced and speak a little English. To ensure smooth communication between you and the driver, we have designed a bilingual instruction paper that is carried by the driver, with a range of questions and answers in both Chinese and English. Also, a translator support is available by calling one of our emergency contact. We will try our very best to solve your problem on the spot.
How much weight am I allowed to take to China? And how much would I have to pay for extra weight?
Typical weight allowances for international flights ranges from 20–40 kg. For domestic flights weight allowance is 20 kg. For extra weight, there is a charge of 1.5% of the total airfare per extra kilo. Please make sure you confirm with your airline. Also, in case you if you're bringing excess or oversize luggage we recommend you inform about it so we can make necessary arrangements if a special care is needed for your luggage (oversize luggage).
There is no need to panic if your China visa is about to expire, just inform us and ask your guide to show you to the Beijing Entry and Exit Administration Bureau to extend your visa. Our local office in Beijing can provide a document to prove your status as a tourist and your departure date. Normally, It should take 3 working days to complete the procedure.
Hotel pick up and drop off area
Beijing:
Any hotels or locations within third ring road
Shanghai:
Any hotels or locations within middle ring road
Xi'an:
Any hotels or locations within third ring road
Cancellation policy
Up to 5 days before departure: 100% refund of all monies paid, excluding penalties charged by hotels, railways, airlines, and PayPal, if applicable. All penalties will be itemized.
Within 5 days before departure: no refund.
What Makes Us Different:
We will arrange your guide as soon as your tour is confirmed with us. Before your departure, your guide's contact information and photos will be sent to you. You may call your guide prior to departure if you want.
Confident and reliable
We provide our customers with competent and reliable drivers. Our drivers are accustomed with routes to tourist destinations, hotels, and restaurants.
About our Vehicles
Our vehicles are licensed and registered by the Beijing tourism administration.
Our vehicle will be fully equipped with in-car Wi-Fi, baby seat if needed, GPS and traffic reporting software. In order to save time and attempt to avoid traffic congestions, our in-car traffic reporting software will give your driver an idea of the traffic situation ahead.
We replace our tour vehicles after every 4 years, as such your tour vehicle will be less than 2 years old.
In order to give you a perception of your tour car, we'll send you photos of our tour car before your departure.
All our vehicles are insured and each seat covers up to 50,000 RMB.
Safe and comfortable
We are experienced in dealing with unpredictable circumstances such as tracing for lost luggage, visa problems, etc. Our tour guide and driver are friendly, enthusiastic and are adamant to assist you! Feel free to let your guide know if you need any help.
Our base in Beijing has more than 50 experienced local staff to solve your problems on the spot.