Information about Gubei water town:
Located in Gubeikou Town, Miyun County in Beijing, Gubei Water Town is a picturesque destination that boasts the stunning Mandarin Duck Lake Reservoir and is situated next to the most perilous and majestic section of the Great Wall – The Simatai Great Wall. This Watertown is a blend of mountains, ancient villages, and water, making it the 'Wuhzen in Beijing'. It is renowned for its northern architectural design and the culture and history of the Qing Dynasty and Republic of China historic period.
Most of the buildings in Gubei Water Town have been reconstructed using traditional courtyard designs. What was once just five ancient villages and a water source has now grown into a popular holiday destination. The holiday resort covers 3.5 square miles and consists of two picturesque districts – Simatai Great Wall and Gubei Water Town.
One striking feature of this town is its old-fashioned elegance and simplicity. The old quartzite streets, rows upon rows of houses, and long Hutongs showcase the town's unique features and style. River channels are scattered between the streets, adding to its charm. During the night, Gubei Water Town presents a cosy and tranquil atmosphere.
Several spots in Gubei Water Town are open to public visits such as the Old Campsite, Water Streets Region, Old Village at Tang River Region, Wolongbao Folk Culture Region, Local Accommodation Region among others.
Tourists can do more than just sightseeing in this town. They can also participate in native activities and experience local customs. For wine enthusiasts, the Sima Liquor Distillery is a must-visit destination. Here, visitors can witness the wine-making process and even learn how to cook with vinasse. The Yongshun Dye House is another attraction where tourists can learn about ecological cloth dyeing and printing. Skilled craftsmen are available to assist visitors in creating their own DIY projects.
The Yinghua Academy is a historical site that houses various records, Confucian classics, and philosophical writings. The Yang Wudi Temple was built to honor brave soldiers who died in various wars. Visitors can also witness demonstrations of how ancient safeguards were operated at the Zhenyuan Safeguard Agency.
At the Eight Banners Guild Hall, tourists can learn about the customs and traditions of Gubei Pass. During Chinese New Year celebrations, professional Harbin teachers create ice sculptures for visitors to enjoy. The temple fair is also a fun event with Sugar Figure Makers, Yangko Dances, Dragon Dances, Lion Dances, Stilt Walkers, and other acrobatic shows.
For those interested in getting a bird's eye view of the town and its surrounding natural features, climbing the tall Simatai Great Wall is a must-do activity. Visitors can also enjoy traditional Peking Opera or simply listen to general chatter while taking in the sights and sounds of this vibrant town.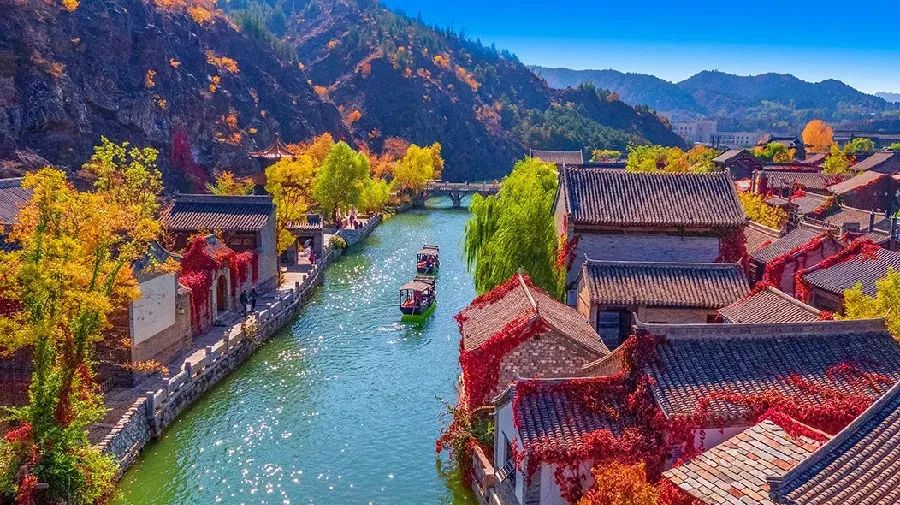 Places to stay:
Due to the uniqueness of Gubei Water Town's architecture, there are a lot of differently-themed hotels to fulfil different visitors' tastes and preferences. You'll find two 5 star hotels, six relatively small boutique hotels, and hundreds of local inns and other alternative accommodation options. The largest hotel is the Water Town that has 4o9 rooms and looks like a European castle. Other hotels in great places include Eight Banners Inn, Great Wall Academy Hotel, Yanmen Inn, Escort Inn, Opera Inn, and Wolongbao Inn. However, some guests prefer staying at local people's homes as they are cheaper. Visitors can get special food from the Italian Caf, Halal Restaurant or Great Wall Bar. Some of the popular local snacks like spiced corned eggs, porridge, pancakes, barbecued pork, and dumplings are worth trying.
How to get to gubei water town from Beijing-Three options
Option 1: Private transfer
Mr orange transfers provide comfortable, safe, affordable and reliable transfer service between Your hotel in downtown Beijing and Gubei water town.
Book a private transfer from Beijing to Gubei water town
Option 2: By tourist bus
Visitors can take a tourist bus heading to Gubei Watertownfrom Dongzhimen at 9 am, 12 pm or 3: 3o pm. On Saturdays and Sundays, there is another bus that departs at 2 pm. It takes approximately two hours and charges CNY 48 per person
Option 3: By subway
Visitors can take Subway Line 13 or alternatively Subway Line 2 to Dongzhimen Station. Then take bus 98o Express of bus 98o from Dongzhimen Transit Hubto the Miyun Bus Station. From there they can take either of three buses (Mi 5o, Mi 51, or Mi 37) to Simatai Village then take a walkto the nearby entrance.