General information:
Hire a car with driver to world famous Mutianyu Great wall, Tian'an men square and Forbidden city, Enjoy a hassle free and flexible tour provided by Mr orange.
Travelling to new places is intended to be fun and luxurious. However, this always comes with a cost; a cost of time, a cost of money, and a cost of effort. That is where we come in. Our car rental service is made and designed in a very flexible way that can be tailored to your specific needs at every specific moment. You will be driven to the Great Wall while you relax and only wait to arrive.
Tariff  (Pls note our price is per car, NOT per person):

Time Schedule:
Departure time: 7:00 am (suggest time, subject to change based on your request)
Estimated returning time: 18:00 pm
Transfer duration: 4 hours
Include: Driver, Fuel, Parking fee, Toll fee
Exclude: Lunch, Entrance tickets, Gratitude for a good job
Pick up point: Your hotel in down town Beijing
Drop off point: Your hotel in down town Beijing
---

---
Why you will need a private transfer:
The Efficient Service
We have a topnotch service with fully licensed drivers that know the ins and outs of China. They will cater to your every need besides just driving. They can help you pay your tickets out and to attend to lunch breaks during your visit whenever you feel it's necessary.Our vehicles are new. They are equipped with every accessory you would need like air-conditioning, air bags, seat belts, fire extinguishers, and more.
You Get To Save
Unlike the inconveniences you would get from having to look for taxi cabs and incur huge charges, our team would stay with you all day long. If you experience difficulties, you can always call our customer service: 0086-13910694045.You can keep the driver and the car for hours and your rates will be customized to suit you.There are no hidden charges and you get what you see.
You Are Flexible
You can always call for the service at any time, even very early in the morning. You will be taken to wherever it is you want to go, and you can stay there for as long as you feel you want to.You are also able to come with up to 4 friends if you like. This will help you to save on money just as much as it would be more fun.Our driver speaks Chinese and will help you overcome many hurdles in communication during difficulty. You may need to download Chinese basic English cheat sheet to speak with the driver though.
Why choose us:

We provide 7*24 hours English speaking customer service and our driver will help you to buy entrance ticket

Absolutely NO shopping, NO detour, NO factory tour.

Driver dress in formal, Well behaved, with clean car and reliable service every time

Book a taxi within minutes and pay by cash or card (online)

We don't spend a cent on any costly advertising to make our price 20% cheaper than competitors.

Vehicles are equipped with Car Air Purifier, We ensure the density of pm2.5 is under 100 in car

---
Before getting to Beijing
you are advised to find the information below via this site: http://orange-transfer.com/track-your-trip/. All information will be updated only 24 hours ahead of your arrival date.
Driver's name
Driver's photo
Driver's contact Number
Vehicle's plate Number
Vehicle's branding

---
Hourly wise itinerary:
Pick up (suggest time, subject to change based on your request) On the tour date, go to the lobby of your hotel at the appointment time, In case you are unable to see our driver (this has never happened before), we strongly suggest you try the following procedure to get in touch with us. We will do our best to solve your problem on the spot.
Go to the front desk of your hotel (staff there speak English and are always ready to help), and ask the staff to make a phone call to our customer hotline: 0086-13910694045 and ask for help.

Arrive at the parking lot of subway restaurant of Mutianyu Great wall-our driver has VIP card of subway restaurant so you will be driven directly to the foot of great wall to skip a long queue with crowds for taking shuttle bus.

Driver will go with you to entrance office and help you to buy tickets
He will also show you where the toilet is if you ask for
You will have three options for going up to the wall:
Ticket price(Our driver would guide you to buy ticket if request):
Entrance ticket to Mutianyu Great wall: 80 Yuan/person
Cable car 40RMB/person single way | 80 RMB/person return way
Chair lift 40RMB/person single way | 80 RMB/person return way
Tobagon 40RMB/person single way | 80 RMB/person return way

Mutianyu Great wall
Situated in Beijing's Huairou District at least 73 km from Beijing, Mutianyu Great Wall is one of the most symbolic parts of the great wall and among the 16 newest tourists' attractions in Beijing. Having a unique construction with densely located watchtowers, Mutianyu has famous sections such as Ox Horn Edge, Jiankou, and Ying Fei Dao. While it was built in the Northern Qi Dynasty it was later restored to the Ming Dynasty. Today, it's perhaps the best construction quality and the most preserved section.
Go back to the parking lot and Heading back to the Forbidden city
Visit to the Tian'an men square & Forbidden city.
Our driver will drop you off at Tian'an men square and you will be walking from Tian'an men square to the Forbidden city, On the way you will have opportunity to take photo on Great hall of people, Tian'an men rostrum, Chair man Mao's mausoleum ect. then you will reach the south gate of Forbidden city, get your ticket from the ticket office(We will buy ticket for you in advance through our system and you will NOT need to queue up at the ticket office for buying ticket, just show your passport to staff at the electronic ticket office, and they will provide the ticket right away).
As one of the most famous sites to see when visiting Beijing in China, the Forbidden City is a place that would transport just about anyone into the past. It has been named as a UNESCO World Heritage Site in 1987 due to its incomparable beauty, and as the structure and the overall uniqueness of the palace is considered as a major part in history, it has been ensured that the establishment would be well-preserved in the years to come.
Forbidden city
The 178-acre Forbidden City, now referred to as the Palace Museum, was considered to be "forbidden" as it was only the emperor who was allowed to roam the location whenever he wished. Should a government official, a member of the imperial family or any other guest express their interest to visit, they should be granted the permission by just the emperor himself and no one else without any exceptions. This rule was applied during the reign of the 24 emperors who lived in the Palace during the Ming and Qing Dynasties, with the tradition starting out in the year 1420.
Pick up at the Forbidden city's north gate and drive back to your hotel.
---
Our Vehicles:
Our vehicles are equipped with GPS system and in car WI-FI device.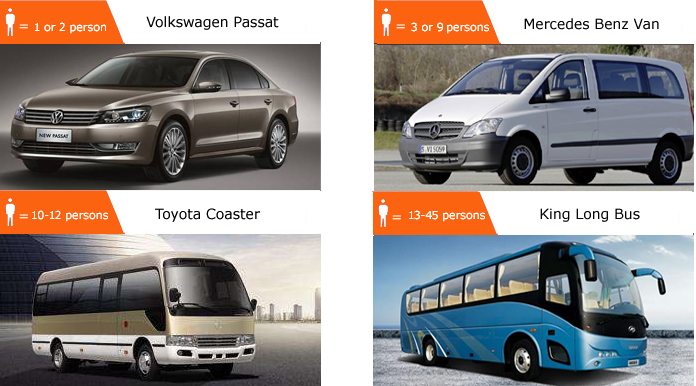 ---
Capacity: