"For the convenience of our customers, we have organised a fast and reliable transfer service to drive you and your travelling companions between the airport, hotel and train station in one of our private cars or buses, according to your needs. We have experience communicating with the airport and hotels, meaning that we can easily help you with any problems you might encounter, such as lost luggage or securing your visa."  
Pricing for Transfer Service Tariff  (Pls note our price is per car, NOT per person):
This service is available daily. The above price is for adults (age > 12). The price for children (age 2-12) is the same as adult price and the price for infant (age < 2) will be free of charge. This price include the transfer service with a private car and a driver who can speak a little English.
 Why choose us:

Transfers to & from Hanoi Airport starting from 15usd/car

Meet & Greet / Waiting & Parking / Flight Tracking included

Driver dress in formal, Well behaved, with clean car and reliable service everytime

Book a taxi within minutes and pay by cash or card (online)

Affordable prices and value for money on each occasion
3 steps to meet Mr orange driver:
---
1. Before getting to Hanoi, you are advised to find the information below via this site: 
http://orange-transfer.com/track-your-trip/. All information will be updated only 24 hours ahead of your arrival date.
Driver's name
Driver's photo
Driver's contact Number
Vehicle's plate Number
Vehicle's branding
Capacity for customers and languages
Hanoi electronic map
2. Hanoi Arrival
Upon arrival in Hanoi airport, walk to the designated position as shown in the picture. There, you will meet our driver. In case you are unable to see our driver (this has never happened before), we strongly suggest you try the following procedure to get in touch with us. We will do our best to solve your problem on the spot.
Go to the information desk opposite the terminal exit (staff there speak English and are always ready to help), and ask the staff to make a phone call to your guide.Call our 24-7 emergency line shown in our confirmation letter and ask for help.
3. Driver Service
Our driver can show you to the nearest toilet and money exchange if you ask.
At the hotel/airport, your driver will help you with luggage and check in formalities.
The trunks of our vehicles are spacious enough for you luggage.
Our vehicles are equipped with Wi-Fi , GPS devices, and a baby seat, please ask your driver if you need them.
Which locations does this service cover?
Hanoi airport transfer
Ho Chi Minh city airport transfer
Da Nang airport to Hoi An – Hue
Noi Bai airport taxi
Hanoi airport to Sofitel Legend Metropole Hanoi private transfer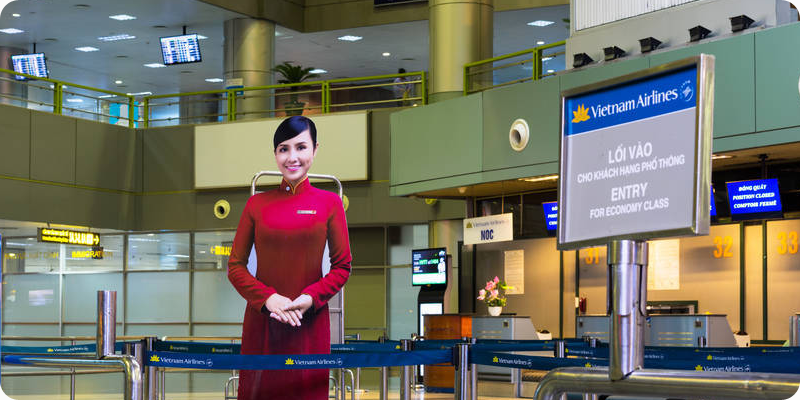 Before you Leave
Be sure to ask our friendly driver any questions you might have, such as the location of the nearest toilet or currency exchange and they will be keen to assist you. We will wait for you for up to 2 hours as you retrieve your luggage and attend to any other matters, but may have to charge extra beyond this time. Please note that you will need to contact us in advice if you are travelling with infants that require booster seats.
Hotel Transfer Service
For most hotels within the normal hotel precinct, your driver will be able to escort you all the way to your hotel lobby, helping with your luggage and check-in. However, if you booked your accommodation at AirBnB, it may be inaccessible by car and you will have to make the last part of the journey on your own.

What kind of vehicles are used?
We have a fleet including cars, vans, buses and coaches, allowing us to serve a single individual, or groups of up to 60 people in a single trip. All vehicles are comfortable, reliable and insured to the value of $7500 USD per seat. They are also equipped with GPS and traffic navigation software to avoid traffic.
Our vehicles are equipped with GPS system and in car WI-FI device.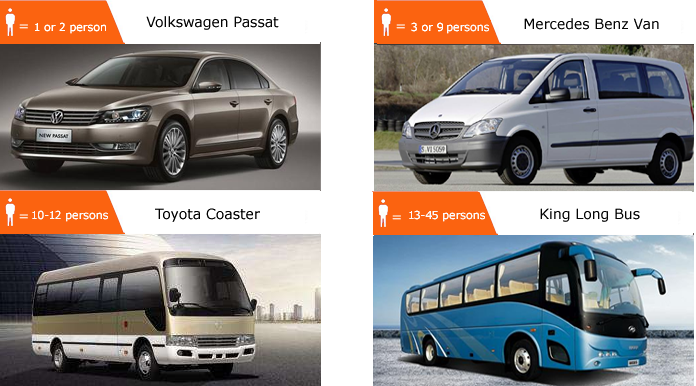 Capacity: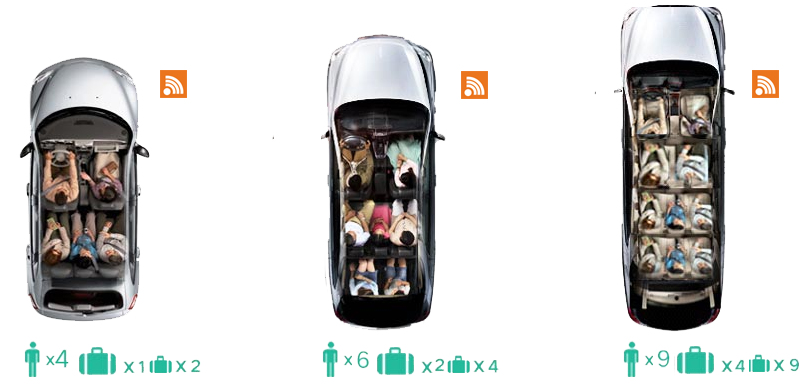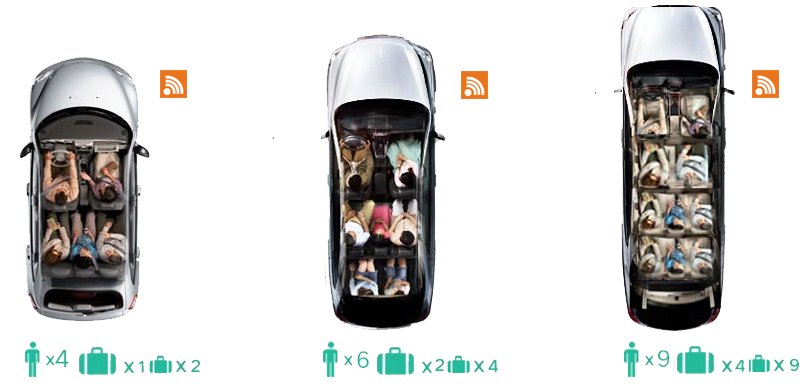 Things to Note
2 Hour of Waiting Time at the Airport
We allow two hours of waiting time at the airport, starting from the time that your plane touches down. This will give you time to do things like withdrawing money from the exchange and gathering your luggage. If you run into any difficulties that you think might delay you, please ring our Customer Support Office immediately on 0084-2539682460 . We may have to charge a waiting fee of $5 USD per half hour. You will not be charged if your flight was delayed.
Pick Up from Hotel
We will wait at the pick-up address for up to 20 minutes. If you have not arrived by this time and we cannot contact you by phone, the transfer will be cancelled without no refund.
Delayed Flights
We will not charge you any extra costs if your flight is delayed by no fault of your own. We will be monitoring the status of the flight code that you provided to us during booking, in order to ensure that we are able to pick you up at the right time, even if you are early or late. Late Night / Early
Morning Surcharge
An extra $10 USD cost applies if you require our service between the hours of 10:30pm and 6:30am.
Oversized Luggage
Please let us know in advance if you are bringing more luggage than the standard international flight allowance (40kg) so that we can arrange extra room for you. Note that excess weight will cost 1.5% of the ticket price per kg with most airlines.
Cancellation Policy
For booking cancellations of our transfer service, the following rules apply, depending on the amount of notice given:
7 days before departure – 100% refund available.
From 3 to 7 days before departure – 90% refund available.
Within 3 days of departure – no refund.
For large groups of 10 or more – your travel advisor will assist you with regard to the cancellation policies for your group.
Information for Booking this Service
When you book the airport transfer service, you will need to have the following information ready.


Train or Flight Details
We will choose the best departure time based on traffic and the queuing times at the terminal. For a domestic flight, this will usually be about 3 hours before the departure time. For an international flight, it will usually be about 4 hours before the departure time. For the train, about 2.5 hours are suggested.
Train and Carriage Number (if arriving by train)
This will allow our driver to find you more easily by meeting you at the exit closest to where you will be stepping off the train.
Correct Hotel Address
Our drive will not be held responsible for hold ups caused by giving the wrong address information. Please double check the address of your hotel with the Customer Support Office on 0084-2539682460 if you are unsure. If you give the wrong information, you will have to pay for a second service to the correct address.
Emergency Contact Information
24/7 Phone Hotline: 0084-2539682460