See the famous Mao's portrait at the Tian'an men Square, skip the lines and touch the hidden imperial history at the Forbidden City, feel the "greatness" first hand at the Great Wall of China at Mutianyu, walking at the beautiful willow path of the imperial garden – the Summer Palace, discover the belief and worship of Chinese emperors at the Temple of Heaven and have a panoramic view of the Forbidden City and even the Beijing city the Jingshan park. In this two-day tour you'll get deep touch with this amazing city – Beijing.
Tour Highlights
Look Mao's portrait at the world largest urban square – Tian'anmen Square.
Skip the lines at the world largest imperial palace – the Forbidden City.
Two hours hiking to the eighth world wonders – the Great Wall at Mutianyu and enjoy the beautiful sunset.
Walk along the willow path, feeling the elegance of Chinese top imperial garden – the Summer Palace.
Hike the Great Wall at Mutianyu in the afternoon, after the crowds leave.
Discover the beliefs and worship of Chinese emperors at the Temple of Heaven.
Have a bird view of Beijing city and a panorama view of the Forbidden City at Jingshan Park.
There is free water, beer, and more at the Mr orange Refreshments Kiosk.
Keep connected with our portable Wi-Fi anytime and anywhere.
No shops, no factories, no time-wasting, no hidden costs!
Guide, Driver, Vehicle, and Customer Service Support
Guide: better than a normal licensed tour guide; friendly and helpful with fluent English
Driver: reliable licensed local driver with at least 5 years' driving experience
Vehicle: Air-conditioned business car (max: 7 seats) with GPS facilities, free in-car Wi-Fi, big windows, and ample space
Mr orange Beijing Office: 24-7 customer service, providing backup support
Detailed Itinerary
Day 1
Visit Tian'anmen Square, the Forbidden City, and the Great Wall at Mutianyu
Skip the line at amazing Forbidden City (Imperial Palace Museum) as Mr orange VIP guests. Walk the Tian'anmen Square with insider's eyesight. 2-hour Great Wall Hiking at Mutianyu with round-way cable car. Freshly-cooked set meal for lunch, free portable Wi-Fi anytime and anywhere. Smartly-timing arrangement absolutely no shop visiting. Today you'll explore the most highlighted attractions in Beijing.
See the detailed itinerary for day 1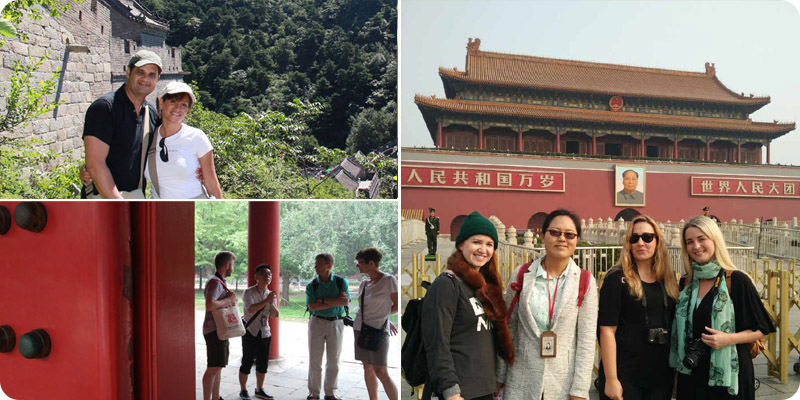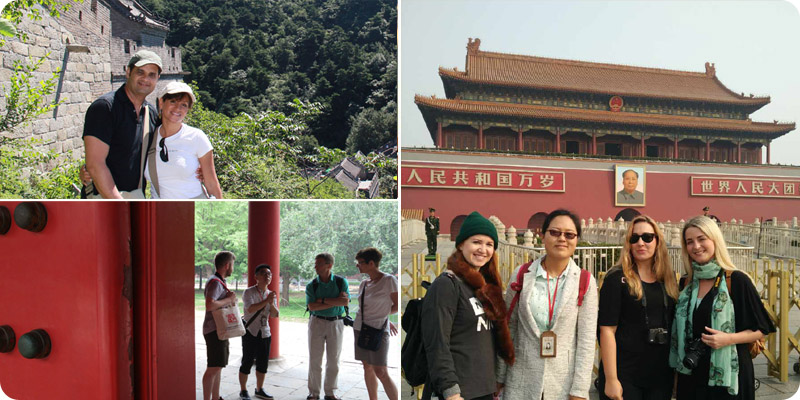 Day 2
Visit Summer Palace, Temple of Heaven, Jingshan Park and Beijing 2008 Olympics Sites
This day you'll deeply explore Beijing by visiting the famous imperial garden – Summer Palace and you'll pass by 2008 Beijing Olympics Sites (the Bird's Nest and Water Cube). After having a Beijing local style lunch, you'll have a bird-view of Beijing city and the Forbidden City by visiting the Jingshan Park. Later on you'll visit the Temple of Heaven where the emperors used to pray for rain and good harvest. Please see the detailed itinerary for day 2 below.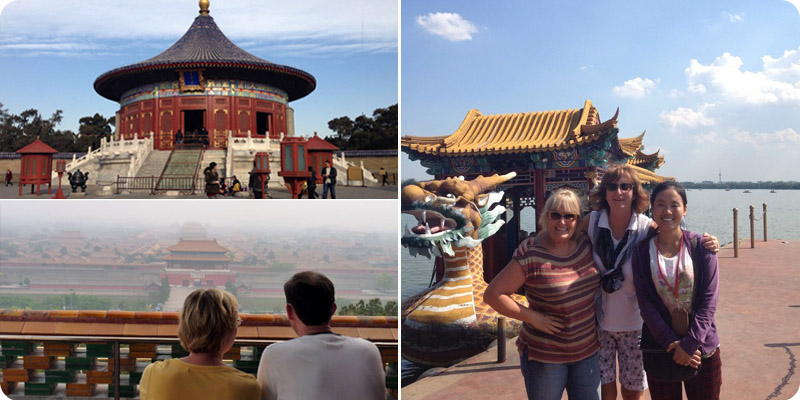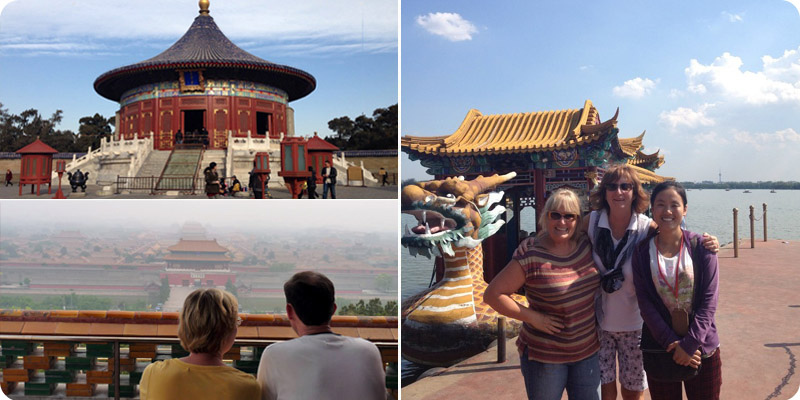 7:30 AM – 11:00 AM
Hotel pick-up  Summer Palace
Your guide will be waiting for you at your hotel lobby at 7:30 am, and a comfortable car will transfer you to the first stop of the day — the world famous imperial garden called the Summer Palace. The imperial building was constructed by the emperor in celebration of his mother's birthday. It is 273 hectares in size and is composed of three main scenic areas: the palace area, lake area, and mountain area. The best way to enjoy sightseeing at the Summer Palace is by taking a dragon boat on the lake (the boat trip is not available in winter as the lake would be frozen) and, on the way, you will have a chance to view all of the beautiful palaces at the side of the lake.
After the boat trip, you will stroll along the long corridor with your guide; this is regarded as being the longest art gallery in the world and has 14,000 traditional paintings painted on the beams.
11:20 AM – 11:40 AM
Visit the Olympic Sites Including the Bird's Nest and Water Cube
Afterwards, you will be transferred to the 2008 Beijing Olympic sites, including the Bird's Nest and Water Cube, for a photo opportunity. Your guide will show you the best angle for getting a panoramic view of the stadium.
12:00 AM – 1:00 PM
Lunch Time
Lunch will be at Da Wan Ju restaurant which serves traditional Chinese food.
1:30 PM – 2:10 PM
Visit Jingshan Park
In the afternoon you will travel to Jingshan Park which is located behind the Forbidden City. It is a 479-meter high hill and is said to be the best position to get a panoramic view of the Forbidden City. Definitely not to be missed, Jingshan Park is located on the central axis of Beijing and has many historic buildings symmetrically located on both sides. You will see the Drum and Bell Tower to the north while the Forbidden City and Tian'anmen Square can be seen to the south.
2:40 PM – 4:10 PM
Visit the Temple of Heaven
In the afternoon, your guide and driver will take you to the Temple of Heaven — this is one sight not to miss when touring Beijing. The Altar, Echo Wall, and spectacular Imperial Vault are the highlights of most tour packages, but we would recommend you spend some time to discover that this was a fasting palace for the emperor. The emperor would fast at the palace before he held a ceremony to pray for a good harvest, and would abstain from meat and wine.
The Hall of Abstinence is actually a small palace. The Emperor of Heaven needed to go to the palace three days in advance, with no drinking, no entertainment, no mourning, and paying no attention to any crimes being committed. All these acts showed his piousness to his god. You will also get a chance to glimpse at the pictures of all the emperors who ever worshiped in the Temple of Heaven, as well as a 600-year-old copper statue of a high ranking official who supervised the fasting process of the emperor.
4:30 PM – 5:30 PM
Transfer back to hotel
Your guide and driver will transfer you back to the hotel, making a perfect end to your Beijing panoramic tour with Mr orange.
Tour Price (USD/ person)
| | | | |
| --- | --- | --- | --- |
| Options | Adults (age>12) |   Children (age 2-12) | Infants (age <2) |
| Shoulder Season* | $220 | $200 | free |
| Peak Season* | $220 | $200 | free |
Important Notes:
The peak season includes the following dates: 30/Apr/2016 – 02/May/2016, 01/Oct/2016 – 07/Oct/2016, 01/Jan/2017 – 03/Jan/2017, 27/Jan/2017 – 03/Feb/2017. Other dates are indicated as shoulder season.
You will share this tour with other tourists (maximum 6 person). This tour is available daily. Guaranteed departure.
If you want to book hotel rooms, please leave your message to us at the inquiry form and we will reserve the room for you per your requirement at a very reasonable price.
Price Includes:
Entrance fees to attractions listed in the itinerary.
Transport between hotel and attractions in the itinerary.
Meals listed in the itinerary.
English-speaking tour guide service.
Price Excludes:
China visa and personal expenses
Gratuities to the tour guide & driver (usually CNY 50 – 100 per person for them). It is not compulsory but would be a great encouragement for them.
Any meals which are not specified in the tour itinerary.
Hotels.
Airport transfer. Click here to book airport transfer service. (price from 18 USD p/p.)
Mr orange Cancellation Policy for Beijing Tours
If we are not able to implement the contract due to war, flood, typhoon, fire, strikes, storm, earthquake, or any other condition we are not able to foresee and avoid, we will inform customers at the first possible opportunity and offer the best possible solutions, and the final bill shall be settled based on the service we actually provide.
Up to 7 days before departure: 100% refund of all money paid, excluding penalties charged by hotels, railways, airlines, and PayPal, if applicable. All penalties will be itemized.
From 3 to 7 days before departure: 90% refund, excluding penalties charged by hotels, railways, airlines, and PayPal, if applicable. All penalties will be itemized.
Within 3 days before departure: no refund.
After the trip has commenced, we are unable to refund any amount for cancelled services due to non-participation, early departure, late arrival, or missed days on tours.
For groups of more than 10 people: The terms for cancellation may vary from case to case. Please ask your travel advisor regarding the cancellation policy for your group.
About 72-Hour Visa-Free Transit Policy
Citizens of certain countries who meet the criteria are allowed 72-hour visa-free transit via and travel in nine China cities: Beijing, Shanghai, Guangzhou, Chengdu, Chongqing, Xi'an, Guilin, Shenyang, and Dalian. Please make sure you have read the detailed Visa-free policies before you decide to take the Visa-free policy. And please keep in mind that Mr orange does not take any resposibility for the risk or loss of customer who use the Visa-free policy. more details
Hotel pick-up and drop-off area
The hotel pick-up and drop-off area should be within the fourth ring road of Beijing. For further distance there might be an extra cost for the transfer which you'll be notified by your travel advisor.


How a "Perfect Trip" is Made
We care about every details to make sure your a perfect trip:
Before your arrival: We will email you with your guide's cell phone number one week ahead of your departure time; make sure to take this confirmation with you. We will confirm your boarding information with the airline office one hour after your departure time to make sure we know that you are on the airplane. Our operation staff and guide will confirm the arrival time on the due day via an app on the cell phone. We will even know exactly where you are in the air!
We will confirm the hotel room reservation with the front desk by telephone before meeting you at the airport. We will ensure that your requests for a non-smoking room, bathtub, and type of room have been acknowledged by the hotel staff and that your room is ready for you.
We will also assist you with ringing the local airline office to double check the reservation for your flights or train departure. We consider this to be an important part of our work as there are three airports and three train stations in Beijing and it is essential that the booking is made at the correct venue.
Our car is licensed and registered with Beijing Tourism Administration. The driver will be familiar with the roads and routes to all destinations and restaurants, and the car will be equipped with a Wi-Fi device that you can use throughout Beijing. For the past decade, we have insisted on recycling our tour vehicles every four years, so that we are certain that the vehicle you will be taking is less than two years old. Most importantly, each of our vehicles is insured, and has 50,000 RMB coverage for each passenger.
We care even details.
Our product manager inspects the local featured restaurants every week based on the online reviews of customers. We have a large selection of different restaurants which cater to the specifications of our customers, and are available to provide various options, such as vegetarian, Muslim, Chinese, Western, Jewish, and Indian restaurants. We are also happy to include your special requests in our reservation form when booking a restaurant for you, such as an allergy to MSG, for example.
Selected Local Featured Food
Our product manager has personally inspected all the major attractions in Beijing, and we have precise information regarding location, pricing for admission tickets, and worthiness for spending extra time there. As part of your package, we have also included some admission tickets for you, such as to the clock exhibition in the Forbidden City, the Garden of Virtuous Harmony in the Summer Palace, Jingshan Park, and a return ticket for the cable car at the Great Wall. Your guide will be both flexible and easy going; he or she will be happy to show you some of the sights more in-depth if you wish.
reliable
Unlike some other online travel agents who sell tour products made by local travel agents, we built our own branch company in Beijing in 2010, and since then we started to make our own unique products. We aim to deliver a high-value tour to every one of our customers. We have more than 50 local staff in Beijing to solve your problems on the spot.
Emergency contact: 0086-13910694045 (24-7 customer service)
Beijing address: Room 204, Building 8, Beijingxiangsu, Wuliqiao Erjie, Chaoyang District
Mr orange Beijing Office