The Bangkok Airport Rail Link (ARL): A Convenient Transportation Option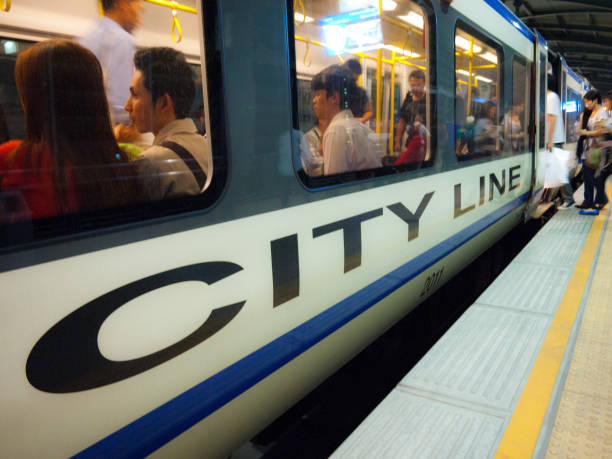 The Bangkok Airport Metro Train, known as the Bangkok Airport Rail Link (ARL), offers a reliable connection between central Bangkok and Suvarnabhumi International Airport. For many travelers, it represents a secure and cost-effective alternative to taking a bus or taxi to and from the airport. (However, for families or couples with substantial luggage, a private transfer might be a more suitable choice.)
The elevated City Line trains cover a distance of 28 kilometers, with stops at six stations between the airport and downtown Bangkok. The journey itself takes approximately 26 minutes, making it the swiftest and most convenient means of traveling to and from central Bangkok. The train service operates daily, running from 05:30 to midnight, 365 days a year.
The City Line station can be found on the Basement level at Suvarnabhumi Airport (BKK). Moreover, the Suvarnabhumi Airport Rail Link seamlessly connects to the MRT subway at Makkasan Station (MRT Petchaburi Station) and the BTS Skytrain at Phayathai Station within Bangkok's city center. This integration simplifies passengers' journeys to their final destinations, whether by subway or elevated skytrain.
It's worth noting that the Bangkok Airport train service is also utilized by commuters and airport staff, which can lead to crowding during rush hours. Nevertheless, travelers who board at the start of the metro route, either at the airport or Phaya Thai station, typically have no trouble securing a seat. For those looking to expedite their journey from the plane to immigration and onward to the station, investing in a Fast Track Pass is a wise decision.

Bangkok Airport Rail Link Stations
The Airport Rail Link operates between Suvarnabhumi and Phaya Thai Station in downtown Bangkok, encompassing a total of eight stations, each designated from A1 to A8. These stations include Suvarnabhumi Airport (BKK) A1, Lad Krabang A2, Ban Thap Chang A3, Hua Mak A4, Ramkhamhaeng A5, Makkasan A6 (interchange with MRT Blue Line at Phetchaburi), Ratchaprarop A7, and Phayathai A8 (interchange with BTS Sukhumvit Line).
Rail Link Station Highlights
Makkasan Station: With a fare of 35 Baht, Makkasan Station was initially intended to be a bustling city air terminal. While it didn't fulfill that role, it serves as a quick gateway to Sukhumvit Road. Disembark at Makkasan, follow signs to Petchaburi MRT (subway) station, just a 200-meter walk away. Take the subway to Asoke Station, at Sukhumvit Soi 21's corner, connecting you to the BTS Skytrain or even allowing for a short walk to your hotel. It also provides a convenient link to Silom Road via the subway from Petchaburi MRT station.
Ratchaprarop Station: With a fare of 40 Baht, Ratchaprarop Station is ideal for those staying in the Baiyoke tower or Pratunam area. It's within 200 meters of the Baiyoke Sky Hotel, Indra Regent, and just a 5-minute walk from the Amari Watergate, Novotel Platinum, and Centara Watergate.
Phaya Thai Station: Charging 45 Baht, this is the busiest station, as it connects directly to Phaya Thai BTS station. From here, you can conveniently take the skytrain north to Chatuchak market or south to the city center. It also offers easy access to Siam Square BTS, connecting to central Bangkok's major malls like Siam Centre, MBK, Siam Discovery, Siam Paragon, and Central World. Staying on the train allows you to head along Sukhumvit or change trains at Siam to reach Silom, Sathorn, and areas across the river.
Airport Rail Link Fares and Ticketing
Two types of train tickets are available for the Bangkok airport train: single-trip tokens and pre-paid Smart Passes. Tourists can purchase tokens at the station or buy a smart pass online in advance. Touch screen ticket (token) machines, which accept only Thai Baht in the form of coins and banknotes, can be found at all stations. Credit cards and mobile wallet payments are not accepted.
Standard train fares range from 15 to 45 Baht, depending on the distance. For example, the fare from Suvarnabhumi International Airport to Phayathai, Bangkok (BTS Skytrain interchange), is 45 Baht, while the fare to Makkasan Station (MRT subway interchange) is 35 Baht. Children under 12 years of age and under 90cm in height can travel free of charge.
Purchasing Airport Rail Link Tickets
Ticket machines for the Bangkok airport rail link are equipped with both English and Thai language options, ensuring ease of use. To select English, simply touch the flag icon in the top right corner of the screen. Next, choose your destination from the on-screen route map and specify the number of passengers. The total fare will be automatically calculated based on your inputs.
Ticket machines accept 1, 5, and 10 Baht coins, as well as 20, 50, 100, and 500 Baht banknotes. Insert your coins and banknotes into the designated slots. Once the inserted amount matches the required fare, your token and any change will drop into the tray below.
Tokens come in various colors, and it doesn't matter if you and a friend have different colored tokens for the same journey. The color is not significant. To enter the platform, tap your token on a sensor pad on the turnstile. When exiting the station at your destination, deposit the token in a slot on the turnstile gate.
Alternatively, you can purchase your ticket online in advance, saving you from exchanging money at the airport and queuing for change at ticket machines. Simply collect your ticket from the Klook booth near the turnstile and tap it on the turnstile to gain access to the station.
Traveler's Tip: If you plan to head into Bangkok and connect with the BTS, consider buying a stored value Rabbit Card. This eliminates the need to queue at BTS stations for tickets or coins. Just tap your card on the turnstile and proceed. More details are available here.