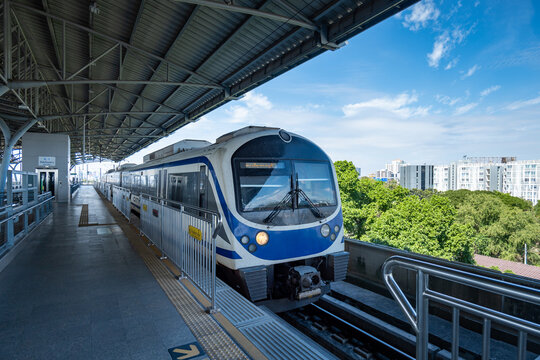 The Suvarnabhumi Airport Rail Link operates 7 days a week, ensuring uninterrupted service throughout the year. On weekdays, the first train departs at 05:00, while the last train leaves at 00:00 (midnight).
During weekends and public holidays, trains are available from 05:29 to 00:08, ensuring convenient travel options for all passengers. Trains run at frequent intervals, with departures occurring every 10 to 15 minutes.
The journey between Suvarnabhumi Airport and Phaya Thai station, located in the heart of Bangkok, takes a mere 26 minutes, making it a swift and efficient transportation choice.
For a comprehensive overview of train departure times, please refer to the complete train schedule below, detailing the departure times for City Line trains traveling between Phaya Thai station and Suvarnabhumi Airport.
Departure Schedule from Phaya Thai Station to Suvarnabhumi Airport (City Line Trains)
Monday to Friday
05:00, 05:30, 05:45
06:00, 06:12, 06:24, 06:36, 06:48
07:00, 07:12, 07:24, 07:36, 07:48
08:00, 08:12, 08:24, 08:36, 08:48
09:00, 09:12, 09:24, 09:36, 09:48
10:00, 10:09, 10:19, 10:30, 10:40, 10:50
11:00, 11:10, 11:20, 11:30, 11:40, 11:50
12:00, 12:10, 12:20, 12:30, 12:40, 12:50
13:00, 13:10, 13:20, 13:30, 13:40, 13:50
14:00, 14:10, 14:20, 14:30, 14:40, 14:50
15:00, 15:10, 15:20, 15:30, 15:40, 15:50
16:00, 16:10, 16:20, 16:30, 16:40, 16:50
17:00, 17:10, 17:20, 17:30, 17:40, 17:50
18:00, 18:10, 18:20, 18:30, 18:40, 18:50
19:00, 19:10, 19:20, 19:30, 19:40, 19:50
20:00, 20:10, 20:20, 20:31, 20:43, 20:55
21:07, 21:20, 21:32, 21:44, 21:56
22:08, 22:20, 22:32, 22:44, 22:56
23:08, 23:20, 23:32, 23:44
00:00
Saturday, Sunday and Public Holidays
05:29, 05:45
06:01, 06:16, 06:27, 06:40, 06:52
07:05, 07:17, 07:30, 07:42, 07:52
08:07, 08:19, 08:32, 08:44, 08:57
09:01, 09:21, 09:34, 09:46, 09:59
10:11, 10:23, 10:36, 10:48
11:01, 11:13, 11:26, 11:38, 11:50
12:03, 12:15, 12:28, 12:40, 12:52
13:05, 13:17, 13:30, 13:42, 13:55
14:07, 14:19, 14:32, 14:44, 14:57
15:09, 15:21, 15:34, 15:46, 15:59
16:11, 16:24, 16:36, 16:48
17:01, 17:13, 17:26, 17:38, 17:50
18:03, 18:15, 18:28, 18:40, 18:53
19:05, 19:17, 19:30, 19:42, 19:55
20:07, 20:19, 20:32, 20:44
21:02, 21:17, 21:33, 21:49
22:04, 22:20, 22:35, 22:50
23:06, 23:21, 23:37, 23:52
00:08
Departure Times From Suvarnabhumi Airport to Phaya Thai Station (City Line Trains)
Monday to Friday
05:30, 05:46
06:01, 06:16, 06:30, 06:42, 06:54
07:06, 07:16, 07:30, 07:42, 07:54
08:06, 08:16, 08:30, 08:42, 08:54
09:06, 09:16, 09:30, 09:43, 09:55
10:06, 10:18, 10:30, 10:40, 10:50
11:00, 11:10, 11:20, 11:30, 11:40, 11:50
12:00, 12:10, 12:20, 12:30, 12:40, 12:50
13:00, 13:10, 13:20, 13:30, 13:40, 13:50
14:00, 14:10, 14:20, 14:30, 14:40, 14:50
15:00, 15:10, 15:20, 15:30, 15:40, 15:50
16:00, 16:10, 16:20, 16:30, 16:40, 16:50
17:00, 17:10, 17:20, 17:30, 17:40, 17:50
18:00, 18:10, 18:20, 18:30, 18:40, 18:50
19:00, 19:10, 19:20, 19:30, 19:40, 19:50
20:00, 20:10, 20:20, 20:31, 20:41, 20:50
21:02, 21:14, 21:26, 21:38, 21:50
22:02, 22:14, 22:26, 22:38, 22:50
23:02, 23:14, 23:26, 23:38, 23:50
00:02
Saturday, Sunday and Public Holidays
05:29, 05:45
06:02, 06:17, 06:32, 06:47, 06:59
07:11, 07:24, 07:36, 07:48
08:01, 08:13, 08:26, 08:38, 08:51
09:03, 09:15, 09:28, 09:40, 09:53
10:05, 10:17, 10:30, 10:42, 10:55
11:07, 11:20, 11:32, 11:44, 11:57
12:09, 12:22, 12:34, 12:46, 12:59
13:11, 13:24, 13:36, 13:48
14:01, 14:13, 14:26, 14:38, 14:51
15:03, 15:15, 15:28, 15:40, 15:53
16:05, 16:18, 16:30, 16:42, 16:55
17:07, 17:20, 17:32, 17:44, 17:57
18:09, 18:22, 18:34, 18:47, 18:59
19:11, 19:24, 19:36, 19:49
20:01, 20:13, 20:26, 20:38, 20:51
21:03, 21:17, 21:34, 21:49
22:05, 22:20, 22:35, 22:51
23:06, 23:22, 23:37, 23:53
00:08